A small start up medical company in Colorado developed a device called the PharmaJet, which does not use needles to inject medication or vaccines into the patient's body.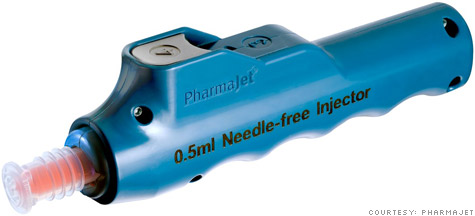 This revolutionary device uses a high speed liquid stream. Though the device does not use needles, there still will be a minor pinch at the time of injection.
PharmaJet was approved by the FDA in 2009 and is now currently in use in about 10 clinic. Statistics show that over 30% of patients prefer or have tried the PharmaJet system over the traditional needle.